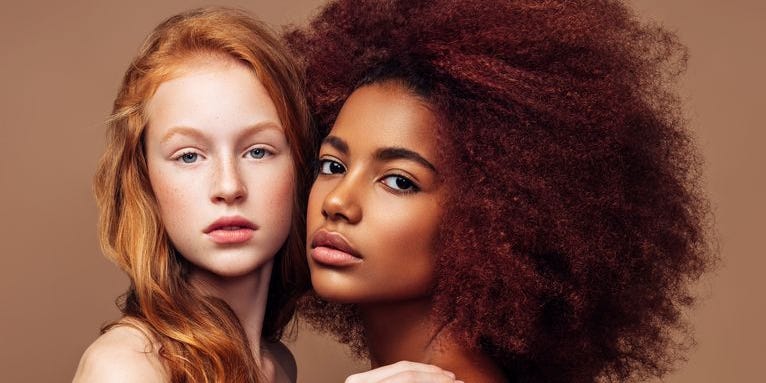 Popular Hair Myths and Lies Debunked
Much like our skin, our body shapes, and just about every aesthetic aspect of our being, each of us is completely individual. Yet there seems to be a generic rulebook of hair myths that we all subscribe to.
Passed down by our mothers and grandmothers – or perpetuated in media marketing – these rules tell us how to treat our hair "if not!" succumb to lower than normal strands. But is there really any truth to them, or are they just scaremongering? We speak to a panel of experts, with today's science at our fingertips, to debunk or confirm some of the most common stories…
1) Air drying your hair is better than heat styling
We know that too much heat can be bad for your hair and styling tools of bygone eras used to subdue strands, causing damage over time. But could it be that air-drying — letting it dry naturally without using a hair dryer or tools — is even worse?
"Everything you do to your hair, from washing to handling to combing, can cause some amount of damage," says Daffydd Thomas, Head of Education at Ghd. "But like extreme heat, leaving water in the hair also makes it prone to breakage." He explains that "water causes the hair fiber to swell and weaken, so it is in our interest to dry it as quickly as possible, because in this state it is the most resistant".
Hairstylist and salon owner Larry King agrees that if you use the right tools with "intelligent heat control," damage is kept to a minimum, and it's the best option. But also that "on the days you don't need to be anywhere" air drying is fine. A styling cream rich in nourishing ingredients will help keep hair strong while it dries.
2) Uprooting the grays will cause others to grow in their place
How many of us remember that morbid but memorable line about gray hair: "If you pull one out, two will come to the funeral"? The threat of a bunch of age-defining strands arriving in place of a few innocent tweezers is surely enough to put most people off. But is there any truth to the dated tale?
No, says Annabel Kingsley, trichologist at Philip Kingsley: "If this myth were true, pulling out white/grey hair would be a great way to get fuller hair!". She says that, if anything, the opposite of the rule applies. "Constantly plucking out a hair, regardless of its color, can distort and permanently damage the hair follicle, so that the hair stops growing back altogether."
And what's the best way to deal with grays, if not (if you want, of course)? Cutting them close to the root is an "acceptable solution" when you have a handful, says Kingsley, but if not, opt for a color blanket or just adopt them.
3) You shouldn't wash your hair every day
How often do you wash your hair? Some people leave it on for a week, most opt ​​for every few days, but a few of us like that daily freshly washed feeling. You may think your hair type requires it, or just that full immersion in the shower is what you need every morning. But should you be reprimanded for this habit?
Absolutely not, says Kingsley: "Washing your hair every day helps support scalp health and promote hair growth. Your scalp is skin and benefits from similar TLC to the skin on your face. However, it depends slightly on your hair type. "If you have an existing scalp condition like dandruff, for example, frequent shampooing is a must. Just like skin conditions, your scalp should be treated with a daily targeted cleanser and other topical products in case of problem.
For some other hair types, such as dry, thick hair, daily washing is not recommended. "It's important to give the natural oils a chance to spread through the hair shaft," says King, "and it takes longer than 24 hours for that to happen." Instead, he recommends going through a range of shampoos (he has his own line of "wash cycles") to provide a "balanced regimen of cleansing, vitamins and volume to ensure your hair gets it all." what they need to look good all the time".
If you're going to wash your hair every day, Kingsley recommends taking a gentle approach ("gentle but firm scalp massage") and making sure to use a brush that's not too harsh or scratchy. It also encourages people to be picky with your products. "You will get the best results from your shampoo and conditioner if you use those formulated for your hair texture and concerns. Daily cleansing can be particularly effective for fine hair and give roots bounce and volume.
4) Regular cuts will make your hair grow faster
Sorry to anyone looking for a fix to speed up hair growth, but regular trims won't make a difference. "They don't make it grow faster, because hair grows in cycles that are just part of our biology." confirms King. "Hair grows from the root," adds Kingsley, "so what you do to the ends of your hair has absolutely no impact on stimulating hair growth." The rate at which your hair grows is, as King said, "genetically determined."
But don't cancel your regular appointments, because it's not that your hairdresser is trying to squeeze money out of you. It is essential for healthy, happy hair and to stop breakage at the ends, which would subsequently lead to less length. "Having a regular trim will maintain hair health and reduce breakage," King says, "so the hair will look stronger and may look longer because of it."
5) A cold rinse will make your hair shinier
Good news for those who brave the freezing wind at the end of their shower: you don't have to worry about it. "Cold water doesn't make hair shinier," Kingsley says. "If anything, this cold rinse could cause strands problems because it can restrict blood flow to the capillaries that supply your hair with nutrients."
Instead, she suggests turning to products, such as those with an acidic pH (like conditioners and detoxifying rinses) to close the outer cuticle, and repairing masks. "Treat your hair like your favorite cashmere sweater," she says, "the better cared for, the shinier it will be."
This content is created and maintained by a third party, and uploaded to this page to help users provide their email addresses. You may be able to find more information about this and similar content on piano.io