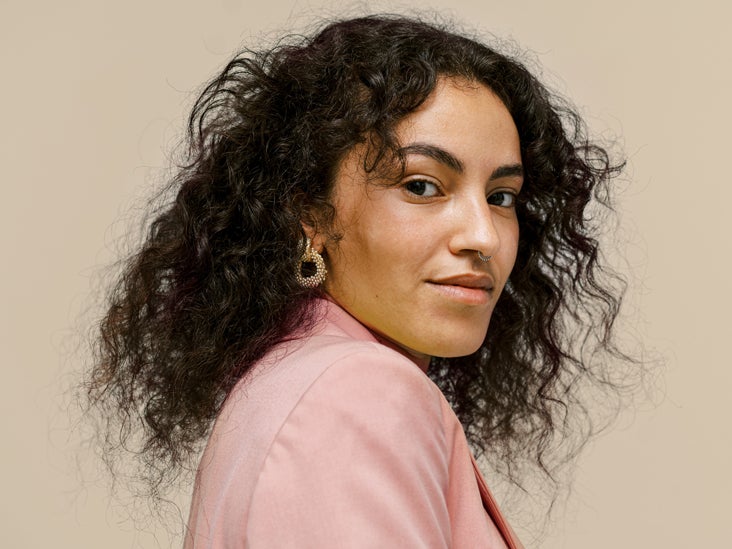 Maintain humidity and reduce frizz
Frizz. Breakup. A lack of volume. It can be difficult to keep fine, curly hair looking its best.
Help is at hand! With proper care, you can ensure fine curly or wavy hair looks and feels thick, healthy and luscious.
"Curly hair has an uneven shape with dips and lifts," explains Norris Ogario, founder and creative director of hair care company Ogario London. "At its highest points, it can be prone to breakage and loss of moisture."
Fine, curly hair also has a less dense growth pattern that is easily weighed down by heavy amounts of product.
Ogario says making sure your curly hair has enough moisture without overloading it is top priority. So how do you do this?
If you find your fine hair difficult to maintain, you're not alone.
"Thin, curly hair can be difficult to manage because it often has fewer layers of cells in the cuticle," explains the trichologist. Stephen Garfit. "Fewer hair cells in the cuticle layer reduces the hair's ability to retain moisture, leaving it dry and unmanageable.
Using thermal styling tools like hair straighteners also increases cuticle damage, adds Garfit.
Try these 10 tips:
Do not towel dry vigorously. Blot gently with a towel instead.
Don't overload your hair with a lot of product at once – little and often better.
Let curls dry naturally. If you use a hair dryer, use a low heat ionic dryer with a diffuser.
Avoid heavy styling products.
Choose lightweight detangling conditioners.
Comb and brush very gently to avoid breakage.
Pre-poo – apply conditioner to dry hair before shampooing.
Focus on ends and mid-lengths and avoid the root zone when applying conditioner.
Choose a silk or satin pillow to reduce friction during the night.
Get a good haircut at a salon that specializes in curly hair.
It can be tempting to scrub your hair well to make sure it's perfectly clean, but Ogario says this technique should be avoided, especially with fine, curly hair.
"If you overstimulate the scalp by rubbing it too vigorously, it can produce too much sebum," he says. "This is problematic because the oil attracts dirt from the atmosphere, clogging follicles and affecting healthy hair growth."
Instead, opt for a firm but gentle circular massage technique without rubbing or chafing.
How often should fine, curly hair be washed?
As for how often you should wash fine, curly hair, Garfit advises doing it every day. If you can't commit to daily shampooing, he says you definitely need to wash your hair if it's dirty or itchy.
Meanwhile, Ogario advises two to three times a week.
Ingredients to look for or avoid
When it comes to ingredients, some say shampoos containing sulfates and parabens can be harmful.
"There's a lot of debate about it online," Garfit says. "I don't disagree with some of the comments, [but] in some cases, chemical substitutes are no better than sulfates.
The savvy solution may be trial and error.
Whichever shampoo you choose, Ogario says a gentle approach is always best when it comes to fine, curly hair.
Fine, curly hair needs more nourishment. Ogario advises looking for deep conditioning hair treatments that contain emollients such as:
They are all great for smoothing frizz and improving curl definition.
Using a conditioning mask once a week can help maintain curl definition, add moisture and make hair easier to style.
Garfit advises using a pre-shampoo conditioning treatment such as Elasticizer by Philip Kingsley.
"It will fill the hair with moisture, and once the hair is full of moisture, the moisture in the air can't get through the hair and cause frizz," he says.
You can also try Deep Conditioning Vitamin & Keratin Hair Mask.
Conditioning is an essential step in managing fine, curly hair, helping lock in moisture and prevent frizz.
Apply conditioner to ends and mid-lengths of hair. Avoid the roots.
"Work the product into the palms of your hands before applying. This step is vital, as it will help achieve an even distribution of the conditioner," says Ogario.
In terms of ingredients, "I formulate my natural conditioners with pro-vitamin B5. That's because it's one of the few ingredients that's been proven to penetrate the outer layer of your hair," says Ogario.
Pro-Vitamin B5 adds moisture and plumps the cuticle, he adds. This means your hair feels and looks fuller with more body and volume.
You can try Ogario's own formulation, Ogario London Restore & Shine Mask.
Knotty hair can be a challenge, and vigorously working out knots can do more harm than good. To manage tangles, Ogario advises the following:
Wrap your hair in a microfiber towel for a few minutes.
Gently press the hair with the towel to absorb any excess water. Your hair should be damp but not soggy.
Use products that can help detangle your hair, like the Restore and Shine Hair Mask mentioned above. Introduce it into the ends of your hair to detangle and soften them.
Take strands of hair and hold them gently at mid-length so as not to put tension on the roots.
Use a wide-tooth comb or afro pick to remove tangles from the ends of the hair.
The secret to adding volume and texture to fine curly hair or fine wavy hair is not to weigh it down with product.
"After shampooing and conditioning, make sure hair is towel-dried, not rubbed," explains Gary Sunderland, hairdresser and hair educator at House Of Curls. "Allow as much hair to dry to a semi-damp state before applying your favorite product."
Too much water in the hair will dilute and weigh down the natural curl and texture, notes Sunderland.
Ogario advises the following to add texture and volume:
Focus on adding volume at the roots when styling fine, curly hair.
Ditch the brush and use your fingers to gently lift the roots as you dry the hair.
Use short bursts of heat as you gently lift the roots. Turn your head upside down for more lift and volume.
Turn off the hair dryer when the hair is about 80% dry and let it dry naturally.
Use a diffuser when using a hair dryer or let your hair air dry.
"Layering your products gives the hair a chance to absorb them without overloading them," says Ogario. "A diffuser disperses air and prevents heat from roughening the cuticle. It reduces frizz and keeps your curls intact.
When it comes to cuts, Ogario says mid-length and shorter styles are usually a good option.
"When it comes to cutting hair, the shape and balance of your curls are key," he explains. "Balance means maximizing the haircut to get the weight in the right places. It leaves the hair as full and thick as possible.
If in doubt, schedule a thorough consultation with your stylist.
"Don't just talk to your stylist about the length. Ask them where they would recommend more weight or texture in the hair or what changes they can make to give you more movement," advises Ogario.
Sunderland says: "A finely woven internal layering pattern adds volume and texture, providing extra support."
Good news: thin, curly hair can be just as versatile as other hair types, whether you want to style it or choose to let it down.
Whichever style you choose, Sunderland suggests working with your hair.
"It's important for the stylist to work with your natural curl pattern and face shape and also consider density before advising you on the correct style," he says.
Thinning is a common problem for fine hair. And Ogario thinks a holistic approach is best. He advises a three-pronged approach to healthy hair growth:
Eat nutritious foods rich in vitamins and minerals for hair growth and a healthy scalp.
Take good care of your scalp. Keep scalp clean and free of buildup.
Drink water. Stay hydrated to promote hair growth.
"Your hair is made up of the same protein as your skin: keratin," says Ogario. "A balanced diet of fruits, vegetables, whole grains, and protein isn't just food for healthy skin, it shows in your hair, too."
If scalp transparency is an issue, Sunderland suggests using camouflage products which can add texture and density to hair and conceal visible scalp.
Toppik Hair Fibers and DermMatch Scalp Concealer are his personal recommendations.
With the right care and styling, you can add moisture, volume and texture to fine, curly hair. Ogario says approach and application are key to managing fine, curly hair.
"The approach is to manage your hair and be gentle with it, especially when it's wet. It's the difference between flat, loose curls and fabulous, full-bodied curls," he says.
---
Victoria Stokes is a writer from the UK. When she's not writing about her favorite topics, self-development and wellness, she usually has her nose stuck in a good book. Victoria lists coffee, cocktails and the color pink among some of her favorite things. Find it on instagram.