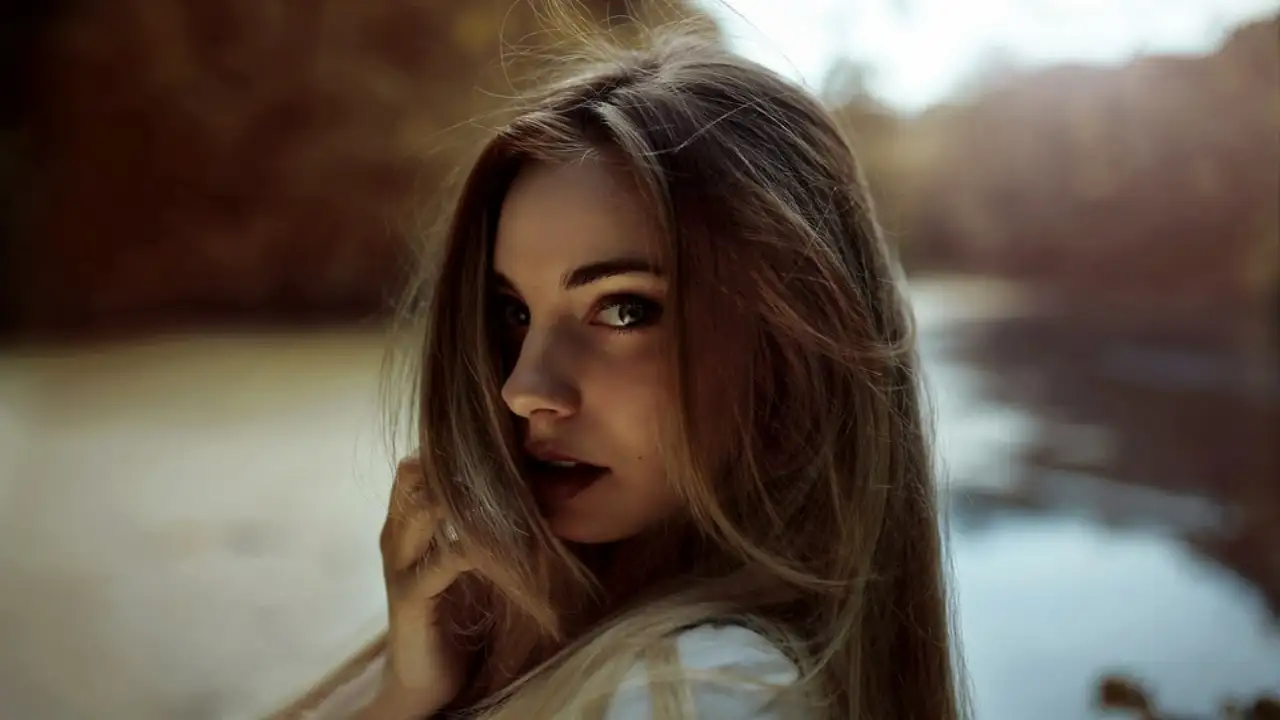 7 hair care essentials that will keep your hair healthy around the clock
Is your hair behaving badly despite all the hair care regimens you're addicted to? It's time to pamper your hair with better alternatives and intensive treatments. No, you don't need to spend a fortune. We're here with the 7 best budget hair care products that you can incorporate into your weekly hair care routine from the comfort of your home. In addition to skin, be sure to pay equal attention to the health of your hair. After all, hair also needs superfoods to survive a hectic, busy life. Remember! It's not about how your hair looks, it's also about how your hair feels.
7 Best Hair Care Essentials to Improve Your Hair Quality
1. Schwarzkopf Professional Bonacure Peptide Repair Rescue Conditioner
Who says you have to go to a salon to pamper your hair from root to tip? Bonacure Peptide Repair Rescue Conditioner from Schwarzkopf Professional will solve all your hair problems at home. It is a conditioner specially designed for damaged hair. With a lightweight detangling formula, this conditioner works well on weakened hair follicles, strands and cuticles. What's interesting? This conditioner gently envelops each of your hair strands with the necessary ingredients, improving the elasticity, quality and texture of the hair as a whole.
After n number of Youtube experiments on your hair, if you are still looking for an intensive, practical, pocket-sized and easy-to-use hair mask, today marks the end of your frantic search and failed experiments . This Ayurvedic hair mask from Vedix is ​​what you need at the earliest. It is enriched with amla, lemon, neem and other scientific powers of Ayurveda. If you have oily hair, this hair mask will also help balance your scalp's oil production. It will help you say goodbye to scalp irritation, thinning hair and split ends. Sound like your dream hair? Get your hands on this hair mask and nourish your hair with the powerful boost of Ayurvedic ingredients to make every hair flip count.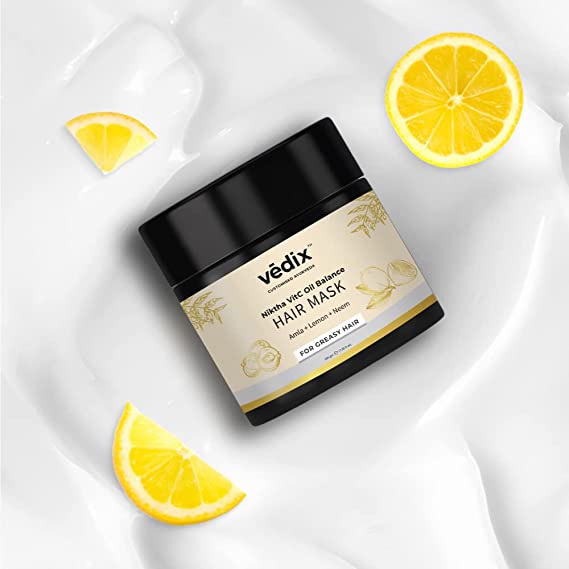 3. Matrix opti.care Smooth Straight Professional Shampoo and Conditioner Combo
This Matrix opti.care Smooth Straight Professional shampoo and conditioner combo is an ultra-smoothing set that will help your dull hair get a fabulous transformation. Formulated with the goodness of shea butter, this shampoo and conditioner combo hydrates your hair and softens chemically treated hair like magic. And what is worth noting? The combo is approved by the majority of hairdressers in the city. If you want to say goodbye to frizzy and unruly hair forever, this combo is surely the magic potion your hair needs.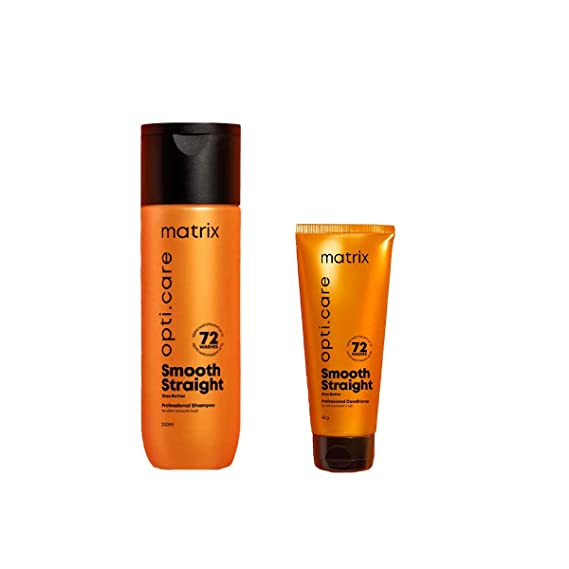 4. Pilgrim Argan Oil Hair Mask
For salon-like shine and smooth hair at home, get your hands on Pilgrim Argan Oil Hair Mask. It will lay down a blanket of glitz and good health on your dull, lackluster hair. It is enriched with white lotus and camellia straight from the land of beauty secrets, Korea. This mask is your hair's new BFF that will help you fight frizz and hair loss. It enhances the volume of your hair and leaves silky smooth perfection. So what are you waiting for? You are just one hair mask away from achieving the hair of your dreams!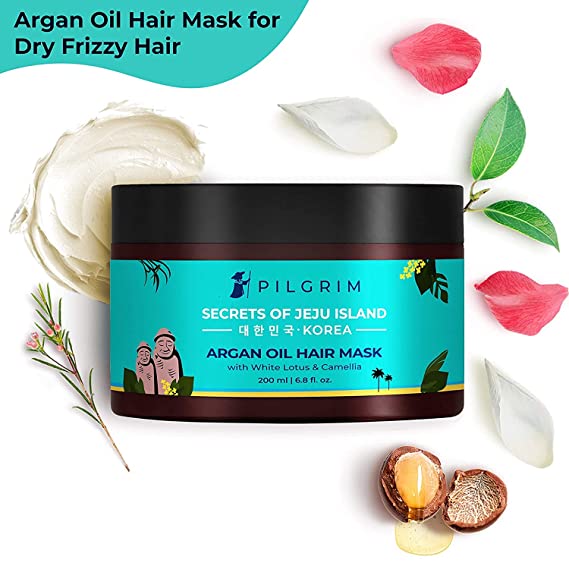 Hair serums have recently hit the market and have left hair-obsessed women stunned. Hair serums do a great job of eliminating frizz and promoting hair density. Want to add an effective hair serum to your daily hair care regimen? Take ThriveCo Hair Growth Serum which is loaded with magic powers of redensyl, anagain, procapil and capilia longa perfect for controlling hair loss. This serum awakens dormant hair stem cells, stimulates hair follicles, promotes healthy blood circulation and thus promotes much needed hair growth.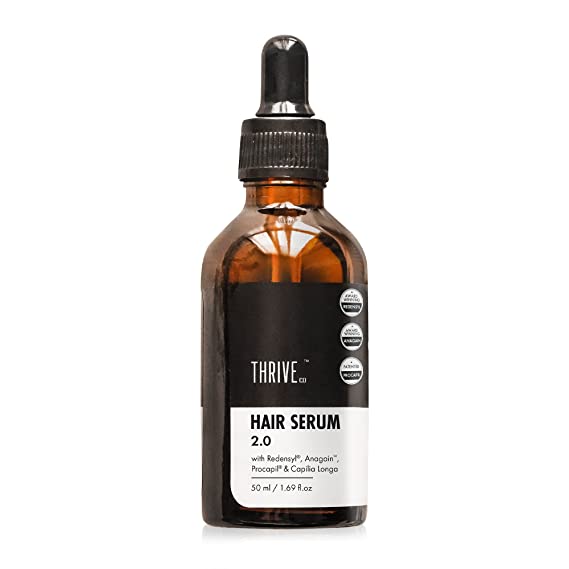 Do you struggle with dandruff? Make it a thing of the past by indulging in Bodywise Dandruff Lotion. It is an anti-dandruff lotion that eliminates stubborn scales and controls excess sebum. Pale ichthyol, zinc pyrithione, tea tree oil and menthol are the four hero ingredients that help fight fungal and bacterial infections suffered by your scalp. To smooth your scalp, treat yourself now to an intensive anti-dandruff treatment.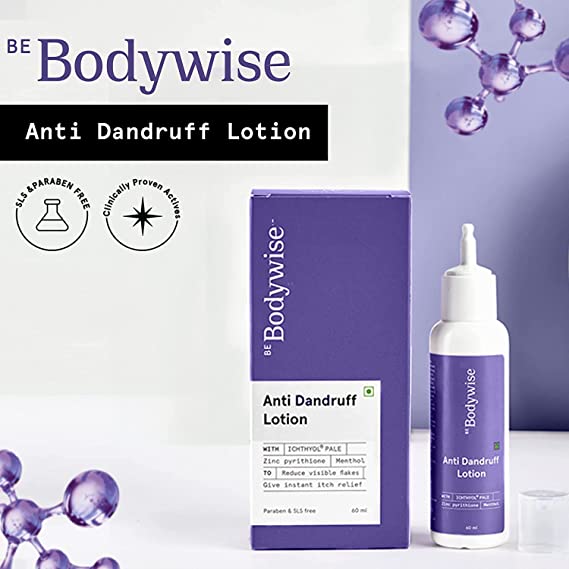 7. The Skin Story Daily Hair Care Kit
Do you have damaged, dry and frizzy hair on a daily basis? Add this daily hair care kit from The Skin Story to your Amazon cart without any hesitation. It contains keratin shampoo, conditioner, hair serum and wooden comb. If you want to tame frizzy hair at the earliest, these hair care products are for you. They are rich in protein and therefore perfect for strengthening hair. With instant anti-frizz and conditioning therapy, this kit replenishes your hair's natural keratin levels and helps you achieve a Rapunzel-like mane.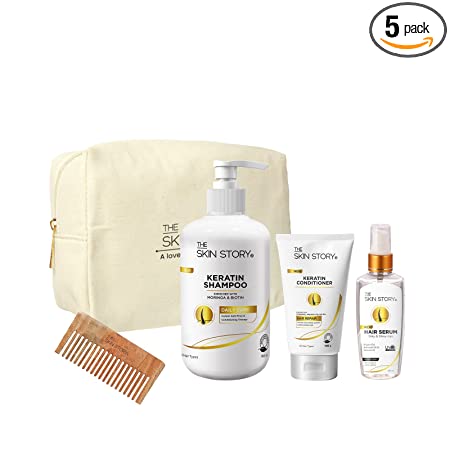 Buckle up and pamper your hair with much-needed love and attention. With the right amount of food, protein, and nutrients, you'll end up with healthy, shiny hair. These top-notch hair care essentials also ensure that you'll never have a dull day. After all, happy hair sets the stage for a good mood.
Disclaimer: This article contains sponsored links and content is created by Pinkvilla. At Pinkvilla, we only select products after detailed research based on shopping trends, product ratings and honest customer feedback. We aim to make your shopping experience convenient and worth every penny. Good shopping!